Kelly Blue Book ATV Values.
Tips for Finding Current ATV Blue Book Prices.
You may not have known this - but Kelly Blue Book ATV values vary by zip code. This is handy to know if you want to compare ATV values in different areas, or just want a more accurate price for your area.
So how do you know you have the right zip code - or how do you change zip codes you might want to see? We're gonna show you!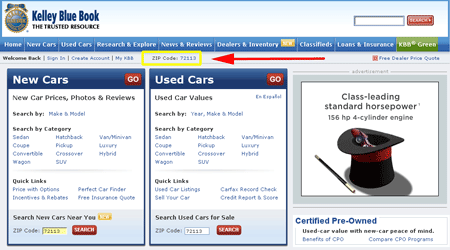 Zip code box on the KBB home page.
If this is your first trip to the Kelly Blue Book ATV web site - you may want to take a look at the ATV Kelly Blue Book Price Guide.


If you've been there before you'll see a page like the one above. Notice where the red arrow is pointing - it shows a zip code link. Click on that link to take the next step.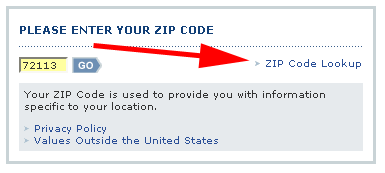 Zip code box and lookup help.
If you know the zip code you want to see ATV prices for - just fill in the box and click Go. There's a handy zip code lookup feature (follow the red arrow) if you need help finding a zip code.
So that's how you find the Kelly Blue Book ATV value in any zip code in the United States. Knowledge is power, so being armed with the true current value of that four wheeler you really want - it's kinda like a shot of nitrous when it comes to getting the best price from your ATV dealer!
More Kelly Blue Book ATV Tips.
The Blue Book ATV values shown are for used four wheelers. There is a choice between trade-in and suggested dealer retail prices. Just click on the link for the one you want to see.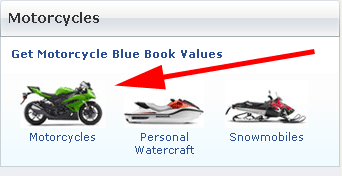 Click on this icon to eliminate a few steps.
In the Motorcycles box on the Blue Book home page - if you click on the image of the bike - you'll jump straight to the page where you choose trade-in value or retail price. This will eliminate a couple of unnecessary steps.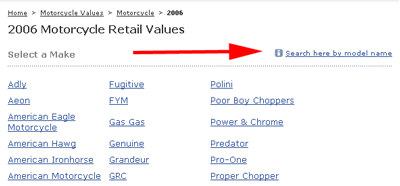 Choose manufacturer or model on this page.
If you don't know the manufacturer's name - you can click on the link to search by the model name. It will also show you the years that model was made.
Now that you know all this stuff it would be a great time to put it to use finding a super deal on a good used ATV! And that's what you really wanted - right?
Click to go to the Kelly Blue Book ATV home page.
Related Articles:
---
Kelly Blue Book ATV Values