Honda Big Red MUV Side by Side Review and Test.
The Honda Big Red MUV adds yet another acronym to the side x side category. Honda says the "MUV" stands for "multipurpose utility vehicle". After staying out of the UTV market for several years, the Big Red is Honda's answer to the side by side question.
Similar to the way Honda has positioned its' utility ATVs, the Big Red focuses on utility over sport. That's not to say you can't have fun with the Big Red. But since this is Honda's only side by side model, they decided to pick a direction instead of trying to make the Big Red be all things to all people.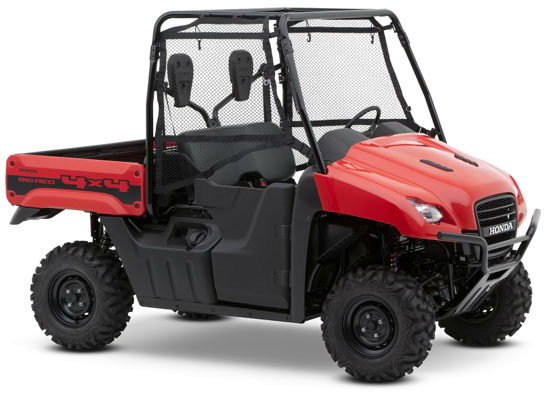 The 2013 Big Red is relatively unchanged since several updates in 2011.
Honda Big Red - Overview
If you're familiar with Honda Civics, you should be right at home in the Honda Big Red. Compared to other UTVs, it has a distinctly automotive look and feel. A 64" width and more than 1,400 pound weight lends even more to that impression.
Along with that comes a more refined fit and finish. Controls have a more car like look and feel to them. Even the driving experience is more automotive thanks to the power steering and real automatic transmission. That's right - it works just like one in a Civic.
Even the marketing material mentions the "SUV" like styling of the Honda Big Red. Which brings us to the styling. Hanging around some showrooms and checking in on some message boards would probably offend the Honda design engineers. Let's just say most folks didn't feel like that was a strong point of the Honda Big Red.
But that's OK - it's obvious the MUV 700 was intended for work first, then play. Sporty it's not. Real work on real farms and ranches is where the Big Red will be at home. Folks that value quality and function will be impressed with the big Honda. Folks like farmers and ranchers!
Check out the video below for a full test of the 2011 model complete with the updates that have been carried over for the 2013 Big Red.
Honda Big Red - Features
Engine - Single cylinder with liquid cooling and EFI. Basically the same engine as the Rincon. Pushrods are used to reduce the height of the engine. Tuned for maximum torque, the top speed is a not very fast 40 mph. It is excellent for towing though.
A high mounted front radiator keeps it out of the mud, and a liquid cooled oil cooler helps out with engine cooling.
The fuel system has an automatic shut off in case you end up on your head.
Transmission - Big news is a for real automatic tranny with a torque converter and three forward speeds with reverse. No CVT belts to slip or get wet. Front and rear sealed shaft drive too. 2wd is a limited-slip turf mode - 4wd is limited-slip - and 4wd locked does just that.
Steering and Suspension - The Honda Big Red MUV won't be mistaken for a sporting UTV. Modest numbers for wheel travel and ground clearance from the chassis and double wishbone suspension eliminate any thoughts of high flying performance.
But the sealed power assisted rack and pinion steering system sets a new standard. Low effort, good feel, accurate, and with very little kick back. Once again, a refined, automotive-type feel.
The 2013 Big Red still had the revised suspension and double adjustable shocks that began with the 2011 model.
Brakes and Wheels - With a nod towards practicality, Honda went with all four wheels the same size. That means a single spare will fit on any corner. The 25 x 10-12 size also has wider selection and lower price than 14's.
Four wheel disc brakes are standard with dual front and rear diagonal brake line connections that will maintain braking in the event of a failure at any wheel. Large disc pads are used for better wear.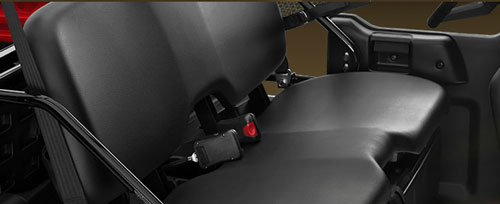 Contoured bench seat with adjustable backs in the 2013 Honda Big Red.
Interior - When you open the door to enter the Honda Big Red, the car-like experience continues with a door handle just like one on a car. The cab is pretty roomy thanks to the extra large size of the MUV. A bench style seat contoured for two was added in 2011 and carried over for the 2013 Honda Big Red. Why no place for a third passenger is a mystery. There's plenty of overall width for it.
Below the seat, you'll find an emergency brake lever and a waterproof electrical socket. Space under the hood is provided for a second battery if needed.
The dash and controls show off Honda's expertise at car building - nicely arranged gages and lights, and well placed controls. Two levers protrude from the dash - one for selecting F - N - R, and the other for 2wd, 4wd, or 4wd locked. There's even a low fuel warning light. Cup holders and extra storage complete the dash layout.
Moving to the floor, you'll see pedals for the throttle and brakes. A foot rest or "dead pedal" is left of the brake. Nice for bracing yourself in rough going. A raised stop on the throttle side helps keep your foot in place on that side. All in all - a very nice, very car-like arrangement.
Exterior - The main components are the dump bed out back and the forward tilting hood/fender combo in the front. Both are made from hi-impact plastic. The bed of the dump box is steel reinforced. The inside of the bed features replaceable plastic panels in case of damage. The capacity of the bed was increased to 1,000 pounds in 2011 and that continues with the 2013 Big Red.
The easy to use dump box is something anyone with chores to do will like. There is now a UTV with dump box handles on both sides! And hydraulic assist to help with raising and lowering. A bonus is easy access to the air box for servicing with the bed raised.
Available colors for the 2013 Big Red are dark green, camo, and of course, red.
2013 Big Red gets revised independent rear suspension, 1,000 lb. capacity dump bed, and 1,500 lb. tow rating with a 2" receiver hitch. Roll cage is now OSHA approved.
A receiver style hitch is standard and the towing capacity also got a big increase with the 2011 model to 1,500 pounds. The 2013 model continues with the same 2 inch hitch and tow rating.
Safety - The Honda Big Red comes with a sturdy looking roll cage complete with retaining nets. There's an offset angle on top to reduce the chance of injury in a roll over. Three point auto style seat belts with automatic sensing keep you strapped in place.
Front and rear brakes are linked diagonally and use separate master cylinders to preserve braking if a brake line or caliper sustain damage. Double latch door handles help keep the doors closed and your legs and feet inside where they belong.
All the safety features, along with the solid handling and feel of the Honda Big Red, translate a safe and secure feeling to the driver and passenger. You don't feel like you're about to be part of an impending disaster when the going gets a little rough!
Honda Big Red - Conclusion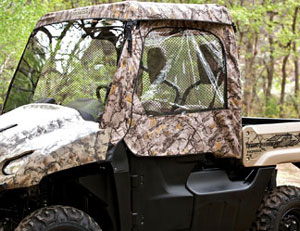 Camo Big Red with top and side curtains.
Good
Automotive level fit, finish, and overall quality look and feel.


Sealed power steering - sealed automatic transmission and drive shafts - raise the bar for reliability and usability in the UTV class. 


The steering and transmission work really well, a lot of folks will be spoiled after they drive one of these!


Dump box is full of features like the hydraulic assist, replaceable panels, tie down loops, and release handles on both sides.


Easier to perform maintenance than other machines in the class.


Lots of accessories available.
This cargo bag is one of many accessories available for the Big Red.
Bad
Engine power will disappoint some. Maybe a  little short on displacement in this class.


Top speed of only 40 mph. You'll get there - just not very fast.


Lack of suspension travel and low ground clearance limits usefulness in some situations.
Final Thoughts - The Honda Big Red MUV 700 is aimed squarely at folks with a job to do. It's obvious that's where the focus was placed.
The updates to the current 2013 Big Red including the bench seat, increased load capacity, and higher tow rating, shows Honda moving this UTV even more toward the utility side of the line.
You can still take the Honda Big Red for a spin on the trails and have some fun, as long as you don't want to go real fast. But this side by side is all about build quality, automotive style driving experience, and the kind of reliability you can depend on to get the job done.
Related Articles:
---
---