UTV Windshields Guide.

You've been looking at UTV windshields and now you're confused with all the choices - full, half, tilting, folding, vented, flexible, lexan, polycarbonate -what does it all mean? Then settle in - that's what this guide is all about. You'll learn more than you ever wanted to know about windshields for your UTV.
We'll explain the different types of windshields and show you where to find the best deals. When you finish pickin' bugs out of your teeth - we'll get started. If you'd like to shop first, just click the link below.
Disclosure: Links have discount prices for you and may pay small commission to us. Details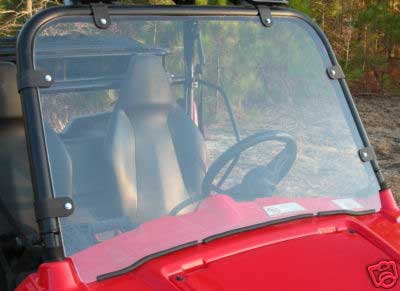 Full - Extends form the top of the dash to the top of the roll cage.
Pros -
Good in colder weather. 
Offers maximum protection.
Back draft effect retains heat in cab.
Cons -
May be too hot in warm temperatures.
Visibility is a problem in muddy conditions.
Might need to be removed for trailer towing because of higher wind resistance.
Back draft sucks a lot of dust back into cab.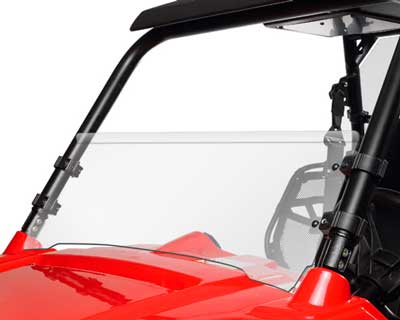 Half - Extends from the top of dash to anywhere from 1/4 to 1/2 the distance to the top of the cage.
Pros -
Cooler in warm weather due to more air flow.
Reduces back draft for less dust in the cab.
Better visibility in mud, rain, or snow.
Removes and installs quicker.
Better for trailer towing - may not have to remove.
Cons -
Less protection from flying debris.
Exposes you to more wind chill in cold weather.
May increase dust in cab from back draft.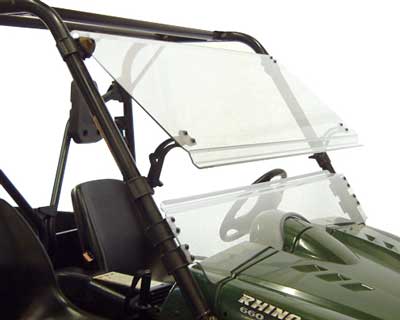 Tilting - Best of both worlds lets you choose from several configurations.
Pros -
You can use as either full or half.
Top and/or lower sections can be tilted to regulate air flow and back draft.
Either section can be removed.
Offers the most options over the broadest range of conditions.
Cons -
Mounting to the UTV is more complicated.
More expensive.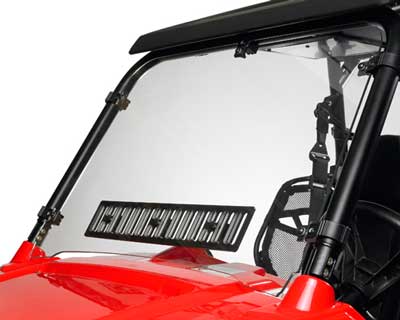 Vented - Venting can be added to windshields to regulate air flow and back draft effect.
Adding vents to UTV windshields is a great way to have maximum protection while still having decent air flow. If the vents are placed correctly - they can reduce turbulence caused form the back draft at higher speeds.
Where the Deals Are.
You can spend a lot of time looking for a deal, or you can just go straight to Ebay. Since there is so much competition among sellers, that's usually where you'll find the best deals.
If you don't like the auction format, a lot of UTV businesses now have online stores on Ebay. And the prices are better than on their regular web sites!
Sellers take the feedback system seriously, so everybody tends to "play nice" to keep their ratings high. Just make sure the sellers have a good track record and have been doing business for a while. That's actually good advice for buying from anyone.
Check out the deals listed below to see what we mean.
Disclosure: Links have discount prices for you and may pay small commission to us. Details

Related Articles:
UTV Accessories Guide - Tons of UTV accessories on the market. But which ones really do the job and where do you get them at the best price?
UTV Cab Best Buys - Need more protection than a windshield? You need a cab enclosure and we'll tell you all about them and where to find the best deals.

---
UTV Windshields Guide
---