UTV / ATV Rentals 
Top How-To Tips

Thinking about UTV or ATV rentals? Simple question with some not so simple answers. And if you're like me, a rental for even a few hours can be a substantial investment. Not to mention even more potential hidden costs like damage deposits and insurance. 
Our How-To Tips are here to help you through the whole process from start to finish. An outing with an ATV or UTV should be nothing but fun, and we'll try to help you make sure it stays that way.
Reasons to Rent

Cost - rent vs buy
Total cost of ownership vs rental cost - Some folks go into sticker shock when they learn a half day ATV or UTV rental can be over $500. But you have to compare that to the total cost of owning and operating an ATV and the number of times you plan to ride each year.


Get off the beaten tourist path - see something different - A UTV or ATV is a great way to get you into areas that the average tourist can't. That can be the difference between a ho-hum tourist experience and a spectacular adventure.


Time for maintenance - Riding is the fun part, but ATVs require regular maintenance that can be fairly time consuming. Do you have the time, ability, and space to handle that?


How much riding time? - If you think you may only have enough time to ride a few times a year, UTV or ATV rentals might be a better way to go than the commitment of ownership.


Help decide if an ATV or UTV is for you before you buy - A UTV or ATV is a significant investment. A short ride around a dealership parking lot may not be enough to base a buying decision on.


Even a short rental could give you enough riding time to decide if an ATV or UTV is what you want.
Access to riding area
How far would ATV have to be transported? - Consider the distance to the area you want to ride. Are you prepared to haul your UTV/ATV that far?


Convenience of arrive and drive - ATV rentals at the riding area allow you to just show up, hop on, and ride away. Even better, when you've had all the fun you can stand, you simply step off and leave.
Transportation for ATV
Need truck and/or trailer? - If you're not lucky enough to live near a riding area, that means your ATV will have to be transported to one. And that means a truck and/or trailer that adds to the expense of owning your own machine.


Are you experienced?
If you don't have much or any riding experience many rental companies offer pre-ride instruction. That's a good way to get comfortable before you tackle a more challenging trail ride. It's also a good way to decide if a UTV might be better for you than an ATV. 
Types of UTV / ATV Rentals

Public riding areas -  tend to be larger open areas like beaches or large public parks that permit riding. ATV rental companies are usually on site or nearby. These areas are mostly go where you want with no marked trails.
Public designated trails - can be local, state, or federal, including the 50 inch wide restricted trails. Trails will normally be clearly marked and there may be penalties or fines for not staying on them.
ATV rentals will probably be near the trail heads but may require a short ride or transport to get from the rental location to the trail.
Private park and trails - Private riding parks are becoming more popular as publicly owned trail systems in some area have become more restrictive. The private parks may have a combination of marked trails and open riding areas, as will as special obstacles like rock climbs or mud pits.
Some rentals may be available on site, but if not, the park should be able to recommend a good rental company.
Resort - Similar to the private park but with the addition of on site food and lodging. Off road resorts are usually in close proximity to the riding area, or may own the area themselves. Rentals are usually handled as a package deal or option to be included with the cost of your stay at the resort.
Guided tour - Many UTV/ATV rental companies offer guided tours that will include a trail guide to help you along the way. If you're in an unfamiliar area and/or an inexperienced rider, a guide can be will worth the added cost.
Depending on the area and company policy, a tour guide may be mandatory as part of your ATV rental.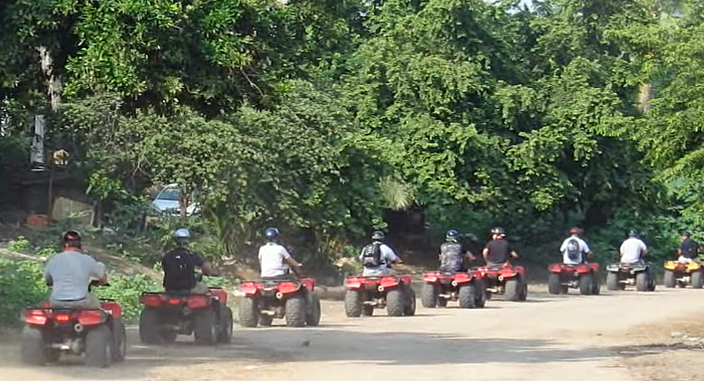 Cost of UTV/ATV Rentals

The cost of renting a UTV or ATV can vary widely depending on the location, time, type of off roader, and options. We'll try to break it down for you in the section below so you'll know what to expect.
Hourly - most common on beaches, open riding areas and short sight-seeing tours. Hourly ATV rentals will usually be the most expensive per hour. The same insurance rates and deposits will be charged as most full day rentals. Check on at least a half day rental, it may not be much more than the rate for one hour.
Half day - The majority of rental companies offer morning and afternoon sessions, with the afternoon usually being longer. A better deal per hour but may not be much less than the full day rate. 
All day - usually discounted so the hourly rate is less than for half day. Many companies offer additional discounts for multi-day rentals. But others charged extra for keeping the ATV overnight. You just need to check with each company and make sure you understand their policies. 
ATV or UTV - Base rates for ATVs are normally the least expensive but in many cases not much less than smaller UTVs. A national rental company we checked with had less than a $10 a day difference between a Honda Rancher 420 ATV and a Polaris RZR 570 UTV. 
We checked with several UTV/ATV rental companies across the country to come up with an average range of rental rates. Full day rates were used as the standard baseline.
ATV rates - for a medium size ATV including insurance ranged from $150 - $300. Damage deposits ranged from $1,000 to $2,000.
UTV rates - for mid-size UTVs including insurance ranged from $200 to $350. Larger 4 - 6 seat UTVs were $300 - $600. Damage deposits ranged from $1,000 - $2,000.
What's Included?
Clearly understanding what is or isn't included in your ATV rental is a must for a positive and fun experience. Some companies tend to be a little vague about those details. Our advice is to ask questions until you're satisfied you have the answers you need. Here are a few tips to get you started.
Rent and transport - Does the rental include transportation if riding area is not close by? If not, is it available and for how much?
Rent and ride - Can you drive from the rental location to the riding area? In cases where there are several different trails, are they all accessible by driving?
Guided tour - Is a tour guide included in the price or is that a hidden option? Is there a support vehicle to carry extra gear or do you need to be prepared to take it all with you on the ATV? Will a backup machine be available in case of a problem?
Breakdown policy - What will the rental company do if a vehicle breaks down? Does it cost more? Do they offer refunds if you can't complete a ride?
Deposit - How much security deposit? What is covered? Refundable? Does it have to be cash or will they accept a credit card?
Insurance - cost and deductible amounts. What exactly is covered? Is theft covered?
Riding Gear - Is it included or extra cost. What type of gear? Helmet, goggles, jacket, etc.? Is riding gear mandatory while driving or riding? Is it OK to bring your own? 
Food and drinks - Included or can you bring your own? What is allowed? How does it need to be carried?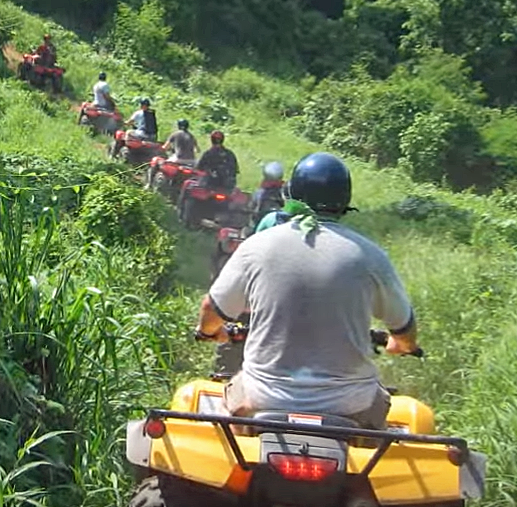 As you can see, there are plenty of good reasons to go with ATV or UTV rentals. Just spend a little time up front making sure you understand all the details and then just worry about having some fun!
If you have any questions or comments, just let us know below.
---
UTV/ATV Rentals
---