ATV Dump Trailer - Buyer's Guide

When you decide to put your four wheeler to work, an ATV dump trailer is a great place to start. Of course there's more than just one kind of dump trailer for ATVs.
Everything from small trailers with plastic tubs to double axle, four wheel trailers are all classified as "ATV dump trailers". The one that will work the best for you will depend on your specific needs.
That is exactly what this guide is all about. Helping you match the work you need to do with the best dump trailer for that job.
ATV Dump Trailer - Best Features
Disclosure: Links have discount prices for you and may pay small commission to us. Details

Dump Bed Construction
Steel or Plastic Dump Bed Boxes are recommended.

Plastic - Inexpensive, lightweight trailers will probably have a plastic bed. These are fine for light hauling but the thinner plastic won't stand up to any abuse from heavier materials.

They would be fine for light yard work but not so much for hauling rocks or logs.


Aluminum - Lighter than steel and tougher than most plastic beds. Since aluminum ATV trailers cost more than either of the other types - I don't see a great reason to recommend them as an ATV dump trailer.


Steel- When the work is hard and heavy - steel is the way to go! Almost all serious dump trailers will be made from steel. Weight is really the main limiting factor for steel trailers. Other than that, you can put whatever you want in the box bed without worrying about it very much.
Dump Bed Lift Assist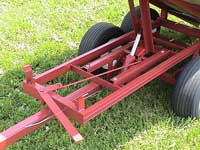 Manual - Cheaper ATV dump trailers and those with small boxes rely on arm strength to lift the box for dumping. Not a problem for lighter loads but don't plan on dumping anything heavy unless you hit the gym regularly. 


Spring - Next up the scale is spring-loaded assist which works well for light to medium loads. They won't help much, if at all with heavy loads.


Winch - These use a system of cables and pulleys with either a hand crank winch or an electric winch. It's possible to handle heavy loads but these are a little trickier to use than the hydraulic assists.


Hydraulic - The most simple and easy to use assist. Can handle the heaviest loads with precise dumping.

Most systems use a hand operated hydraulic jack with a scissor lift to raise the dump bed.
Wheels - Tires - Axles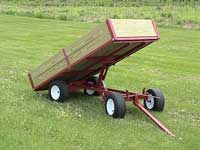 Single axle - Works well for small
and medium size loads with better maneuverability than dual axles.


Dual axles - Provide more stability for heavier loads and larger box beds.


ATV wheels - Use the same size wheels as your ATV and then you have some spare wheels.


All terrain tires - These type tires use the block tread pattern for less damage to yards and other delicate areas.
ATV Dump Trailer - Popular Options.
Adjustable length tongue - Lengthen the tongue to clear ATV racks or for hauling longer items like logs.


Hitch type - Your choice of receiver hitch, ball hitch, or farm style pin hitch. Folding hitches are popular for more compact storage of the trailer.


Removable side boards - Add or remove sideboards depending on load requirements. Convert box bed to flat bed and vice versa.


Removable front panel and tailgate - Convert your trailer for hauling logs or any other items longer than your box bed.
If you would like to do a little shopping to see what's available, just click the link below.
Disclosure: Links have discount prices for you and may pay small commission to us. Details

Safety Tips
An ATV with a loaded trailer can easily lift the front wheels when driving uphill. Also, steering ability going uphill is reduced.
Going downhill, the force of an overloaded trailer can lift the rear wheels of an ATV off the ground, resulting in a side skid or rollover.
With a trailer, an ATV is more difficult to control. Go slower, do not drive on steep slopes, and make sure the trailer is not overloaded.
Keep weight forward and as low as possible in the trailer, and consider how the center of gravity will affect vehicle and trailer stability on slopes.
Related Articles:
Pull Behind ATV/UTV Trailer Guide
---
ATV Dump Trailers
---