2009 Kawasaki Teryx - What's New?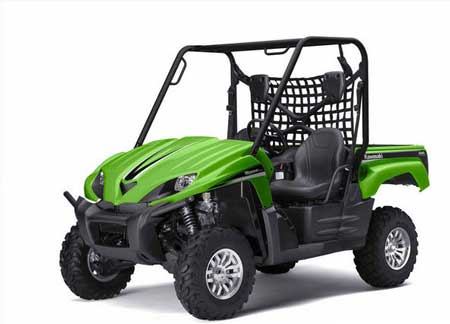 2009 Kawasaki Teryx Sport
Check out this 2009 Kawasaki Teryx video. They do a good job of hi-lighting the major changes for 2009. We'll get into the nuts and bolts below after the video.

The biggies are digital fuel injection, new digital instrument cluster, and tilt bed with gas strut assist standard on all models.
2009 Kawasaki Teryx Changes.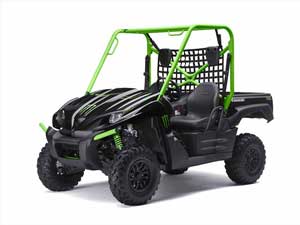 Kawasaki Teryx Sport Monster
New Digital Fuel Injection system -
High output 750cc twin engine now has digital fuel injection for better throttle response and automatically adjusts for changes in temperature and altitude.


The fuel injection system continually monitors coolant temperature, air intake temperature, throttle position, air intake pressure, vehicle speed and crankshaft angle to meter out the ideal amount of fuel via two 34mm throttle bodies for stable power delivery - regardless of the conditions.


Instantaneous fuel delivery from the fuel injection makes its response sharper than ever.


FI systems permits easy engine starting at low temperature and utilizes an Automatic Idle Speed Control and Automatic Fast Idle function to ensure a smooth engine warm up.


The high-pressure fuel pump located inside the tank features a unique reservoir chamber at the bottom of the fuel pump to ensure air does not get into the fuel system.


Specific Teryx-sized throttle bodies and revised ignition timing have increased low and mid-range torque as well as improved response at higher rpm.


Revised ignition timing when in reverse combined with low-speed operation and deceleration FI settings better enable the engine to deal with increased moisture when driving in shallow water.
Upgraded Multi-Function Display -
Now standard on all models, it includes a digital speedometer, clock, dual trip meters plus 2WD/4WD indicator, water temperature and fuel injection warning indicators.


New for '09 features include digital fuel gauge and parking brake indicator.


Additional indicator lamps include CVT belt temperature warning, neutral, reverse and low oil pressure warning.
Tilting Cargo Bed -
New tilting cargo bed offers a 500 lb capacity, tie down hooks in all four corners, standard cargo net and generous dimensions.


Gas-assist struts help facilitate the dumping of cargo and are now a standard feature on all Teryx models.
Improved Continuously Variable Transmission -
Both the intake and exhaust cooling ducts were revised to better prevent water or mud from entering the drive belt area.


The new intake duct flows air to the CVT more effectively for better cooling while the intake air temperature is reduced via heat shielding on the exhaust pipe located below the intake duct.


Throttle Position Sensor (TPS) data was added to the CVT Belt Protection System's sensor inputs. Other inputs include a gear sensor (not in neutral), vehicle speed (measured from the rear wheel), and engine speed.


The extra input permits the system to better prevent tire freewheel and offer upgraded rock section performance with less belt overloading. Should the system detect engine operation at high rpm for more than two seconds while the rear wheels remain motionless (i.e. rear wheels are immobilized and the belt is slipping), it automatically retards ignition timing and warns the rider via a flashing belt warning lamp.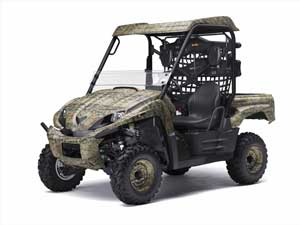 2009 Kawasaki Teryx NRA
Other Significant Changes -
To maintain the ideal engine oil pressure the oil level was raised and the crankcase breather room and the area around the oil pump were revised.


New top piston ring with revised twist angle and reduced end gap, and the shape of breather room in the generator cover was changed to decrease the oil loss.


Radiator is compact and placed high in the chassis for better protection against mud and debris.


Increasing air cleaner box volume and changing the ducting shape and length lowered the noise level near riders' heads.


For 2009, the adjustable Kayaba gas-charged shocks have revised settings combined with a new stabilizer bar to improve ride quality.
The link below will give you a quick look at standard equipment and prices.
2009 Kawasaki Teryx Models with Standard Features.
Here are the specs for the 2009 Kawasaki Teryx Sport. We chose it based on the amount of interest in the Sport models. You can see in the chart above which models come with different equipment.
---
---
2009 Kawasaki Teryx
---