Vampire ATV Tires -
Review and Recommendations.
Vampire ATV tires are obviously aimed at mud riding. But if you assumed that's all they were good for - you would be missing out on everything these tires can do.
The thing to keep in mind is there are actually three different tire types within the line of Vampire four wheeler tires.
The standard TSL is great choice for general riding with the emphasis on mud riding. For more serious mud bogging - you can choose the EDL model with a full 2" lug depth.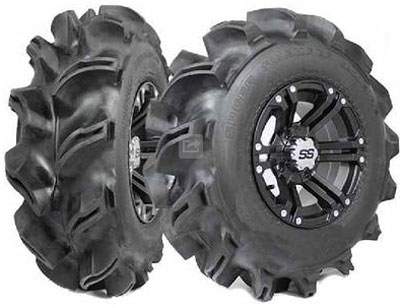 Super Swamper Vampire EDL
The ASX model is an asymmetrical tire with extra lugs on the outside sidewall for better traction in ruts and when cornering. The inside sidewall doesn't have lugs which improves clearance and allows a larger tire size than would otherwise be possible.
TSL Vampire ATV Tires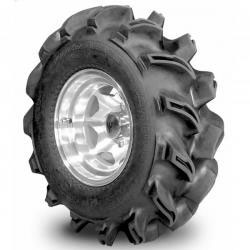 Super Swamper TSL
The Super Swamper TSL/Vampire is about as rugged as they come for trail riding with the accent on mud capability.
The deep lugs give longer tread life with the 43/32nds of tread depth and great forward, reverse and lateral traction.
For really serious ATV mud riding - consider the 28" EDL Vampire tires with a full 2" lug depth.
The Vampires are designed to run under most load conditions even when punctured. As long as the Vampire doesn't become unseated from the rim, the tire will almost always get you back... even without air.
Vampire TSL ATV Tires - ASX Type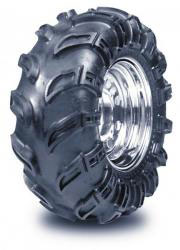 Vampire ASX
The outside sidewall has a full sidewall tread on one side (asymmetrical). You sacrifice a little lug depth for the mud, but gain better general trail riding ability under most other conditions.
This gives the tire excellent characteristics for climbing out of ruts, excellent rim and sidewall protection, and allows for an increase in tire width without the problems of rubbing on the frame.
When purchasing these tires remember you will need two for the left and two for the right side of the ATV.
Click the custom link below for the best Ebay deals right now!
---
---