Guide to Suzuki ATV Wheels.
Where can you find the largest selection of Suzuki ATV wheels at the best prices? Well, we did a little homework and found them for you.
Wheels and tires for ATVs are by far the most popular four wheeler accessories. There's nothing else that changes looks and performance as much. It's a lot like working out - you look and feel better. If you like any kind of 2 for 1 deals, then this is a no-brainer!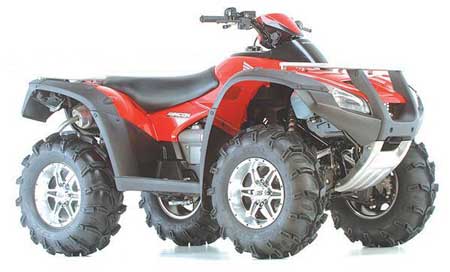 Upgrade you Suzuki with a set of ATV wheels.
Disclosure: Links have discount prices for you and may pay small commission to us. Details

Suzuki ATV Wheels - Best Daily Deals on Ebay Motors!
On the functional side of things - if you want to run bigger tires you'll need bigger wheels. A bonus with aluminum wheels is lighter weight which means less work the suspension has to do. You'll also notice an improvement in acceleration and braking due to less "flywheel effect".
Meaning lighter wheels take less force to start and stop than heavier steel wheels. The steering may also feel lighter for the same reason. Just as long as you don't undo the advantages of lighter weight wheels by putting on heavier tires!
On the other hand, if you want to go to larger, heavier tires, lighter wheels can help the overall wheel/tire package stay close to the same weight.
ATV wheel spacers are another item you might want to consider. They're almost a necessity to get clearance for the bigger mud tires. At the same time they increase the track width of the ATV which makes it less "tippy". Just don't overdo it - too much will be hard on hubs and suspension pivots.
If you're interested in more than just ATV wheels, be sure and check out our advanced search tips for finding ATV parts on Ebay.
All these Suzuki Quad wheel listings are kept current. So what you see is for sale right now!
If over 15,000 listings seems overwhelming you can narrow the results by selecting a brand name you want from the list to the left of the listings.
We also like to specify free shipping to avoid some of the silly games a few sellers play with pricing.
If you need other ATV parts, you can find them here at this virtual Suzuki ATV parts warehouse! You'll find thousands of 4 wheeler parts at great prices. And of course, a custom link that updates every day so you won't miss any bargains.
---
---