Mud Lite ATV Tires.
Review and Recommendations
ITP Mud Lite ATV tires come in two flavors - old school bias and the newer XTR radial. The fact that both are called Mud Lites is really misleading since they don't have very much in common. The tread patterns are significantly different and the XTR is only available in limited sizes.
If you just want to see the best deals available right now, go ahead and click on the link below. Our custom links are programmed to update constantly so they always show the current best deals.
Disclosure: Links have discount prices for you and may pay small commission to us. Details

ITP Mud Lite ATV Tires - See the best Ebay deals listed today!
Bias ply Mud Lite Tires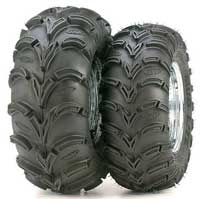 These ATV tires cover a wide range of sizes from 22" to a whopping 30". Lug depth varies with size and model:
22" - 25" AT - 1/2" to 5/8"


25" - 28" XL - 1" to 1 1/8"


30" XXL - 1 1/4"
The Mud Lites have a 6-ply rating while being some of the lightest ATV mud tires available. In spite of the name, these tires are more of an all-around trail tire with some mud capability. The models with the larger lug depth do work better in the deeper stuff.
They are reasonably cheap ATV tires which has helped keep them one of the more popular 4 wheeler tires. You'll see them on everything from small bore sport quads to the biggest 4x4 ATVs and Side by Sides.
In fact - as almost discount ATV tires - the Mud Lites are one of the most chosen OEM replacement tires. You can get a little more ground clearance, a little more mud traction, and you're not giving up much in trail handling or ride comfort.
Bias ply Mud Lite ATV Tires - Pros and Cons
Pros
Good all-around tire for the price.
Light weight means less power loss and better handling.
Good range of sizes.
Comfortable ride.
XL and XXL models have above average mud traction.
Cons
AT models have limited traction in mud and don't self clean very well.
Several reports of lugs separating from carcass.
Prone to sidewall punctures in sharp rocks.
Rapid wear on hard surfaces and rocks.
The deep lug XL and XXL models require more power to spin for self cleaning.
XTR Radial Mud Lite ATV Tires
Disclosure: Links have discount prices for you and may pay small commission to us. Details

ITP Mud Lite XTR Tires - Best Deals Today on Ebay!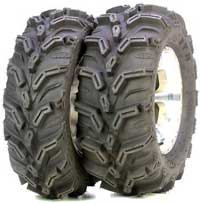 The original all terrain radial tire. These use a more aggressive lug pattern with a 1 1/8' depth. There's more space between lugs for better cleaning and more bite.
The XTRs are also 6 ply rated and still lighter than most any other all terrain radial ATV tire. Sizes are 25" - 26" - 27" for 12" wheels and a 27" low profile for 14" wheels.
The 12" wheel size is recommended for mainly mud riding since it has better flex and flotation properties. The 14" size is a good choice for all around trail riding with improved stability and handling.
Mud Lite XTR tires do cost a little more but seem to more than make up for that in owner satisfaction. Recent surveys show that a full 100 % of owners would recommend these tires to fellow riders. Throw in the 9.3 out of a possible 10 score in product satisfaction, and the Mud Lite radials come out one of the highest rated tires in owner surveys.
The only significant problem reported was an occasional high speed shimmy on hard surfaces. A few tires were found to be out of round which could contribute to that but those cases were fairly rare.
ITP Mud Lite ATV Tires - Recommended Uses.
Mud Lite Bias ply - The smaller size AT tire is popular on smaller sport quads. They have much better trial riding ability than stock tires offer. They also work well as OEM replacement tires for utility style ATVs that have to operate in light mud. They have better performance than the stockers without the weight penalty of most other ATV mud tires.
The short lug depth limits these Mud Lite ATV tires to shallow mud that's not too thick. Anything more than that will require the XL or the more serious XXL.
If you're trail riding involves negotiating light to medium mud on a regular basis - the XL tire is a good choice. Compared to other ATV tires for sale, the Mud Lites have to be one of the best bang-for-the buck tires out there.
You do need to be aware that sidewall punctures were a consistent problem so if you ride in a lot of sharp rocks that's something you'll have to keep in mind. Very aggressive riders reported more problems than others, so if that's more your style you may have better luck with a heavier duty tire.
Mud Lite XTR radial - You need an ATV with enough power to pull these, but since they're lighter, it's not that much of a problem. The only other problem is cost. They are a lot more than the bias ply models.
Cost aside - this is one of the best all-around trail/mud tires you can get. Smooth riding with great traction in almost all conditions normal riders will ever see. You'll have a hard time finding anyone with anything bad to say about the performance of the XTRs. Highly recommended for larger ATVs and the 14s are really good on UTVs.
Related Articles:
---
---