Maxxis Mud Bug ATV Tires.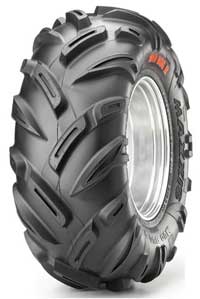 The Maxxis Mud Bug ATV tires are among the lightest radial ATV mud tires you can get. Maxxis' goal with these ATV mud tires was to combine deep, aggressive lugs with 6-ply radial construction.
The idea being good mud traction while still maintaining a comfortable ride on all-terrain trails. Seems like a reasonable thing to do - let's see how it worked.
Sizes are a little limited with 25 and 26 inchers for 12" wheels and 26 inch sizes for 14" wheels.
We checked with our usual group of suspects form around the "internets". Then our sources for owner surveys. Throw in a few phone interviews with dealers and we have a pretty complete picture of how the Maxxis Mud Bug tires work.
Overall opinion is they work pretty dang good! Everyone was impressed with the surprisingly smooth ride at anything above a walking pace. Folks that were using them for farming type chores, but still wanted to trail ride, really liked their versatility.
Disclosure: Links have discount prices for you and may pay small commission to us. Details

Maxxis Mud Bug ATV Tires - Follow our custom Ebay link for the best deals listed every day. It's programmed to update constantly so you'll always see the best bargains first.
Several others mentioned the stability of the tires and the confidence it gave them to tackle mud holes and steep hills. Even in two wheel drive they still had superior traction compared to most other tires.
Pros
Good lug depth - nearly 1.25 inches.
Very good traction in muddy conditions.
Very good as an all-terrain trail tire.
Good ride at anything faster than walking speed.
Very puncture resistant.
Confidence inspiring stability.
Reasonable wear rate.

Cons
Rough ride at slow speeds.
Tires are still heavy even though they are lighter than most other mud tires.
Heavier steering feel than most all-terrain tires.
A few owners felt the tires had a faster wear rate than expected.
Maxxis Mud Bug ATV Tires - Conclusion
Almost 75% of owners said they would recommend these tires to fellow riders. That's not the highest rating we've seen but it's still solid.
Comparatively lighter weight and less rolling resistance due to the radial construction make these tires attractive for less powerful ATVs that still want to play in the mud.
The 14 inchers would be a good choice for an all around UTV tire. We think the Mud Bugs are a good choice for an all-terrain tire with the accent on mud performance. If that's what you're looking for - add these ATV tires to your list.
Related Articles:
---
---