2019 Mahindra Roxor

Review of the USA built Mahindra Jeep.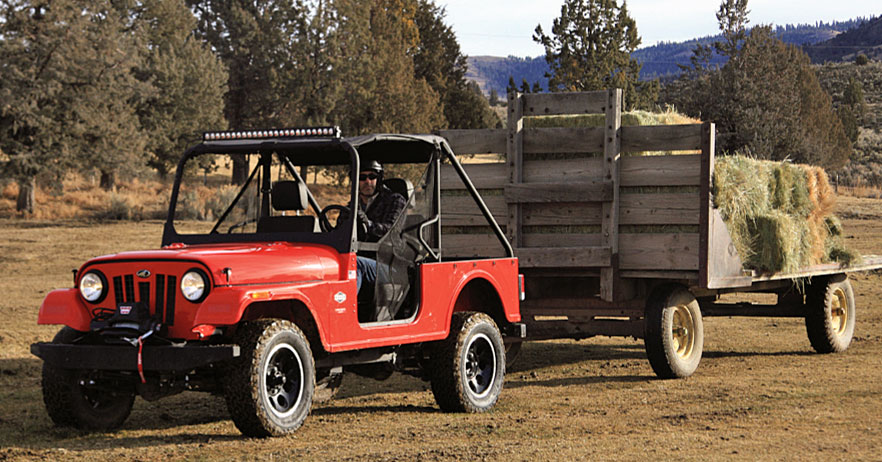 The 2019 Mahindra Roxor gets some updates, along with an expansion of its' accessories line. The US built Mahindra Jeep, based on the WWII era Willlys CJ3, is a unique choice in the side by side UTV category.
Mahindra Roxor - New Features
2019 Updates 
11 inch front disc brakes and 11 inch rear drum brakes
55 mph top speed. 
More colors offered - white, red, blue, black, tan, and olive green - Plus over 400 custom colors 
New Accessories
Two locking differential options - Lunchbox and OX.
The lack of locking diffs really handicapped the potential of the Mahindra Roxor, as it struggled to get traction with the front and rear open diffs only providing power to one wheel on each end. 
Lunchbox - USA Standards Spartan Locker - The least expensive and easiest to install. It can be used on both front and rear diffs. Basically replaces the spider gears with a ratcheting mechanism that supplies power to both wheels. It's fairly noisy with a distinct "ratcheing" sound as it operates. It does provide full 4wd, but isn't recommended as a heavy duty solution. Price is about $900 for both front and rear diffs - plus installation.
OX - Made in the USA, this is the heavy duty solution. Also will fit both front and rear diffs. Replaces the entire differential mechanism with a more sophisticated and reliable torque locking center section. Seriously more expensive at $1799 each plus installation. 
More Wheel and Tire choices - Choice of Goodyear or BF Goodrich Tires on 16 in steel or aluminum wheels,  optional spare tire carrier 
Optional soft top, hard plastic top, or full soft cab enclosure
More Graphics packages - Decal wraps offered are Mossy Oak or Realtree camo with black or orange lettering, P-40 style graphics,  traditional military graphics,  matte black hood decal. 
2019 Mahindra Roxor Features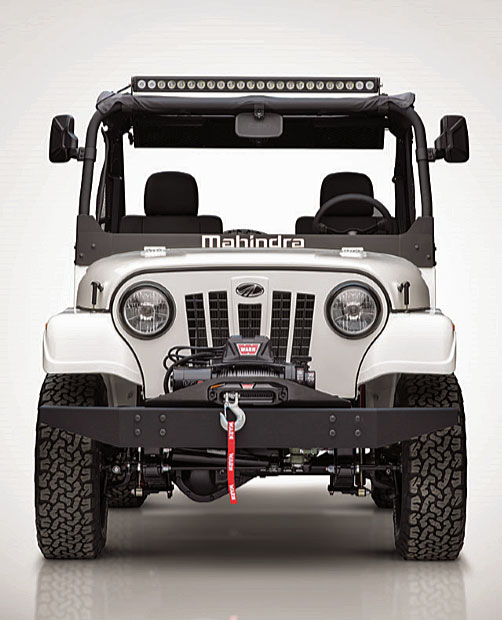 Heavy duty front bumper, winch, mirrors, and light bar are all options.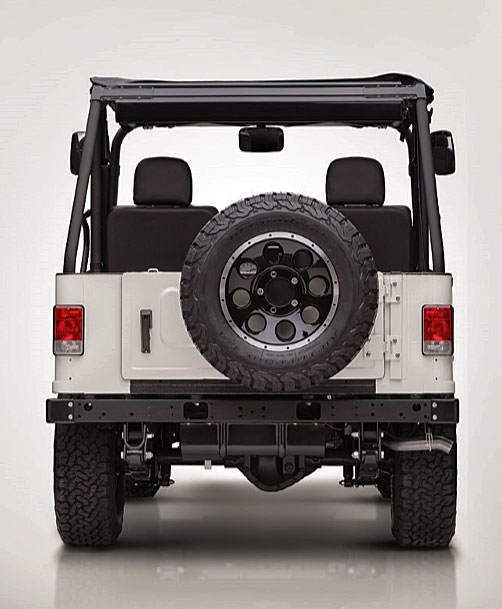 Spare tire and carrier, soft top, and wheel/tire combos are all on the accessories list.
Driveline
2.5 L direct injection  four cylinder  turbo diesel engine. 62 horsepower and 144 ft lb of torque.
5 speed manual transmission
Four-wheel drive with 2 speed transfer case - high/low range 
Solid axles with open diffs front and rear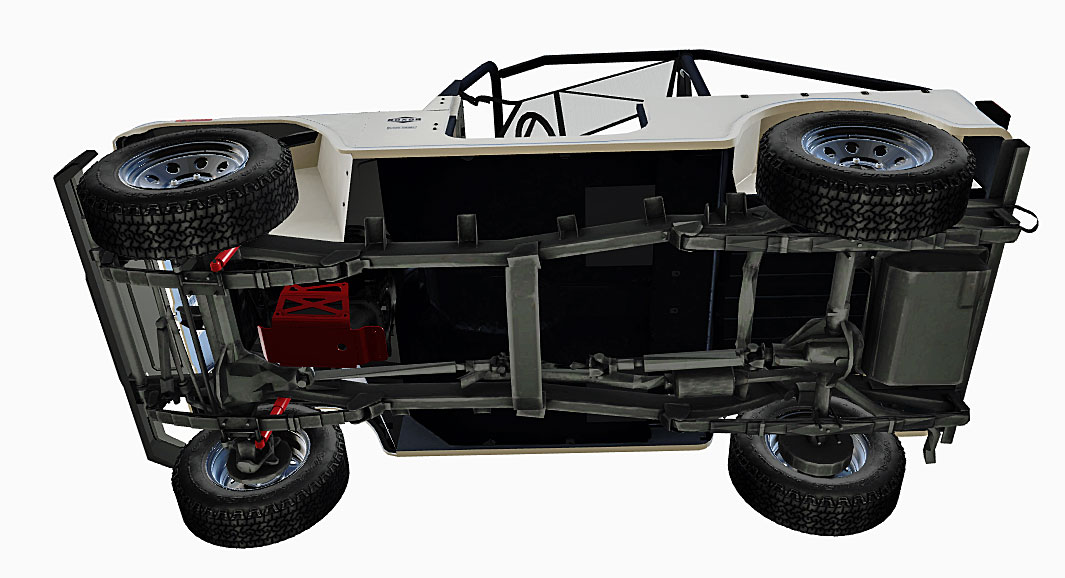 The Roxor offers simplicity, and toughness over cutting edge technology.
Suspension/Brakes/Steering
Leaf spring suspension front and rear
11 inch disc brakes front - 11 inch drum brakes rear 
Vacuum assist power brakes 
Hydraulic power steering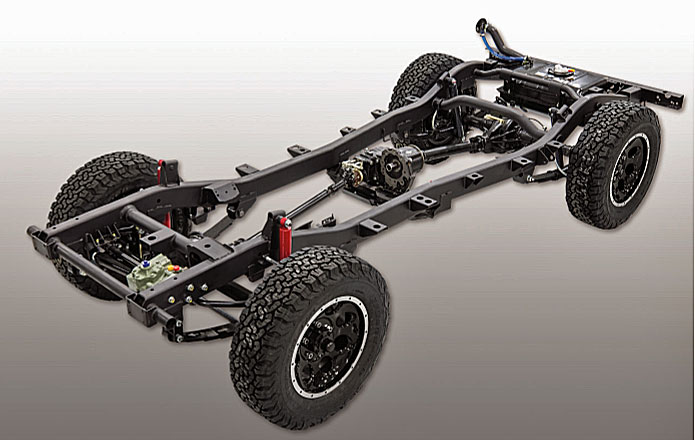 Steel box tube frame, live axles, and leaf spring suspension.
Body/Chassis/Interior
Steel box tube ladder frame
Bolt on All Steel body
Full roll cage
Two seats with small bed box -  350 lb capacity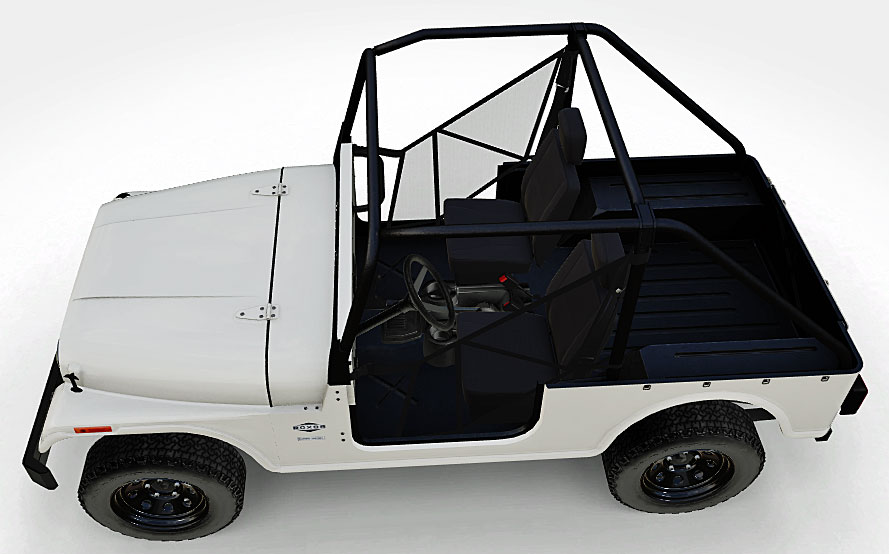 Full roll cage, basic interior with 2 seats, and a small cargo area.
Driving Impressions
Power - 144 foot pounds of torque just off idle, and a 5 speed transmission with high/low range in the transfer case, provides good power for almost any situation.
Handling - Power steering, power brakes, and an easy shifting 5-speed transmission make the Roxor easy to drive. Provided you're familiar with driving a manual shift vehicle. A big turning circle and choppy ride make it less maneuverable than it could be.
The 9-inch ground clearance, solid axles, and leaf spring suspension limit the size of obstacles the Roxor can tackle.  Wheel travel and articulation are limited compared to mainstream side-by-side UTVs.
Brakes - Power brakes with relatively large 11 inch front disc and 11 inch rear drums are adequate for a vehicle this size. 

Ride - 62 inch width and a 96 inch wheelbase with leaf spring suspension and live axles front and rear produces a choppy and bouncy ride. Very similar to a WWII era Jeep CJ3.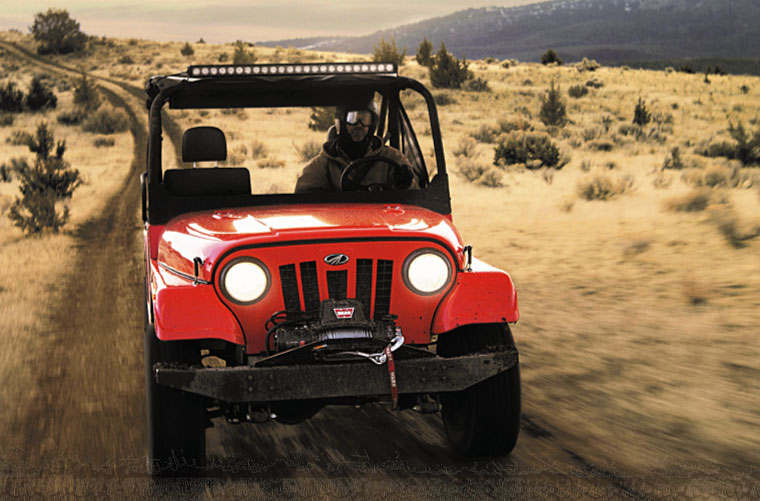 The Roxor is at home on 2-track trails and wide open spaces.
Mahindra Roxor - Comparisons
Other than being legal for off road use only, and having 4 wheels and a steering wheel, there isn't much comparison to other side by side UTVs.
Other than the near 3500 lb towing capacity, we can't think of any real world performance advantages of the Roxor.
It may well have advantages in the areas of simplicity, reliability, ease of maintenance, and driving fun.
The 2.5L turbo diesel should last just short of forever, and makes the kind of stump pulling torque other UTVs can only dream about.
The automotive style 5 speed transmission and manual clutch means no CVT belts or automatic clutches to worry about.
The simple live axles are 8 less CV joints and boots to be damaged or replaced.
If you would like a more interactive, tactile, retro driving experience, the Roxor just might be the side by side for you.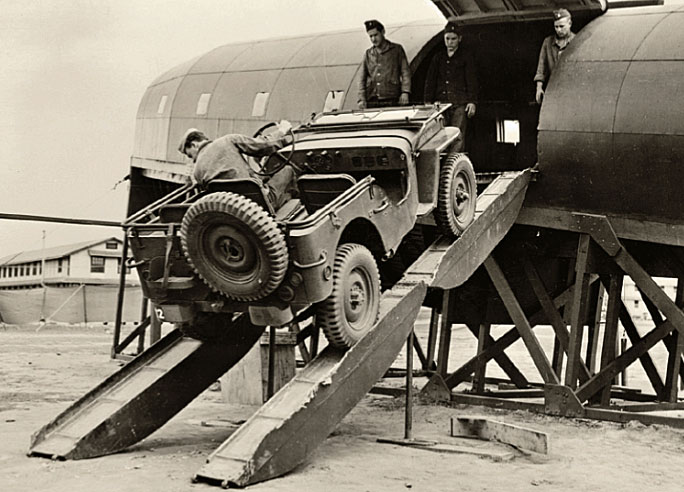 The Roxor shares DNA with the Willys CJ3 Jeep, built by Mahindra under license since 1947.
Conclusion
As soon as you sit in the Roxor, it becomes obvious that it has more in common with the on-road automotive side of things than the powersports based Side by Side UTVs in the class.
Since Roxor execs have dropped strong hints about the possibility of a street legal Roxor, that's not surprising. But for now, it was easier to get the Roxor in the US as an off road side by side.
When compared to the more utility focused UTVs in the class, other than towing capacity, it comes up short. Lack of a dump bed, no storage racks, seats for only 2, low ground clearance, and lack of true 4wd hurt the Roxor.
Compared to sports recreation models, it just doesn't have the suspension or performance to keep up.
For those that value the simplicity and sturdiness of a traditional old school Jeep, the Roxor could make sense.
It could also be a great basic platform for those that want a dedicated, off road Jeep style vehicle they could customize the way they want.
The Mahindra Roxor isn't for everybody, but on the other hand, there's nothing else like it in the UTV class.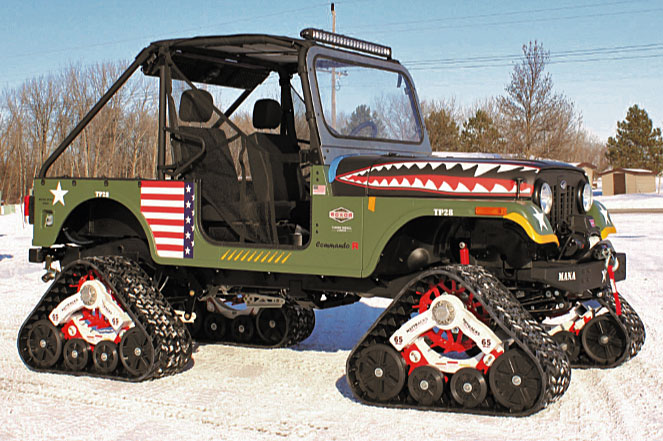 The Roxor platform is designed for easy customization.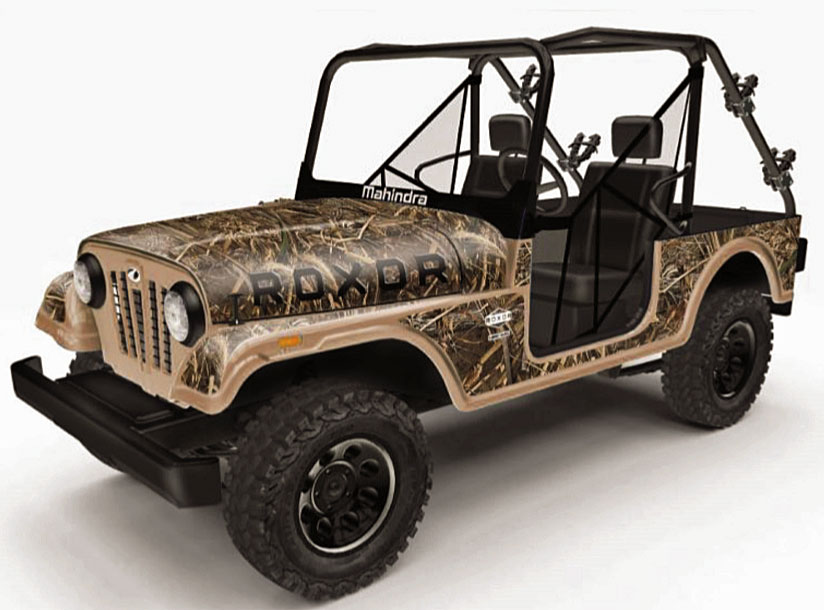 Camo wrap and roll bar mounted gun racks are popular accessories for hunters.
---
---