2019 Kawasaki Mule Pro MX Review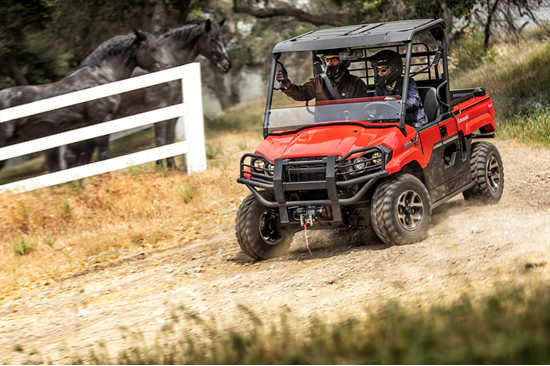 The all-new 2019 Kawasaki MULE PRO MX brings a new choice to the side by side UTV mid-size class. You get a comfortable fit for two passengers inside a shorter and narrower wheelbase. While the focus is still utility, Kawasaki says the new Mule Pro is designed to be fun on the trail too.
While smaller in size, the new MX isn't short on features. 
695cc single cylinder fuel injected single overhead cam engine
Centrifugal clutch CVT
Speed sensitive EPS (electric power steering)
4 wheel independent suspension
Disc Brakes front and rear
Mid-sized steel tube ladder style frame
Roomy interior with contoured bench seat, doors and tilt-adjustable steering wheel 
All steel tilt bed
That's the overview, let's get into some details.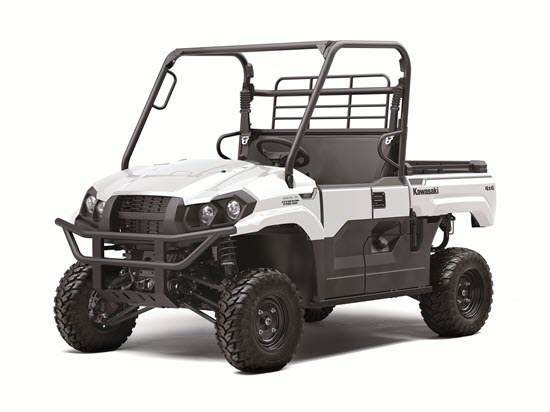 The 2019 Kawasaki Mule Pro MX adds a mid-size UTV choice.
Engine and Drivetrain
Liquid-cooled, fuel injected 695cc SOHC, 4-valve, four-stroke with 43 ft. lb. of torque
Engine is fully rubber mounted to minimize vibration.
Centrifugal clutch/CVT transmission with electrically selectable 2WD/4WD system that has a dual-mode, locking rear differential. Controlled by easy to reach dash mounted switches. CVT includes an engine braking feature to help with steep descents.
Intake and air cleaner are placed high up beneath the dashboard with rubber seal and paper filter element to minimize the engine's exposure to dust and grime.
CVT duct and differential breather were designed to minimize water exposure. The ECU was placed inside an enclosed container high up in the vehicle for the same reason.
9.5-gallon fuel tank is recessed to minimize damage from trail debris.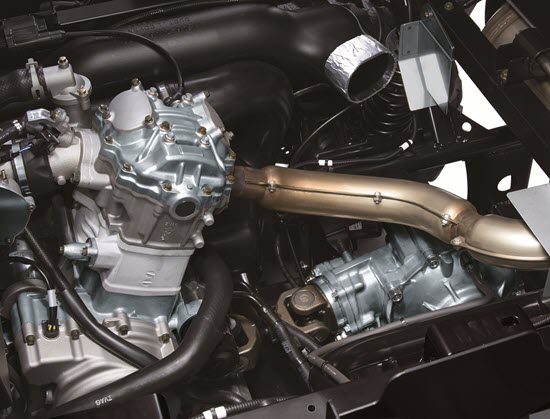 The single cylinder engine in the Kawasaki Mule Pro MX offers nearly as much torque as the 3 cylinder engine of the larger Mule Pros
Chassis - Suspension - Brakes - Steering
Ladder style steel tubing frame with bolted and welded panels.
Double A-arm suspension both front and rear with coilover shocks and springs.
Design positions the wheels as close to the corners of the vehicle as possible to minimize overhang. Improves stability and responsiveness.
The Kawasaki MULE PRO-MX features a 13.8-foot turning radius, a short 78.9-inch wheelbase and wide track width, measuring 52 inches in the front end and 50.5 inches in the rear end with over 10 inches of ground clearance.
All models have speed sensitive electric power steering (EPS) with tilt steering wheel.
Front and rear hydraulic disc brakes.
Parking brake which is located conveniently under the dash.
25 inch Duro Frontier radial tires mounted on 12 inch wheels. The MX LE models get aluminum wheels. All other models get steel.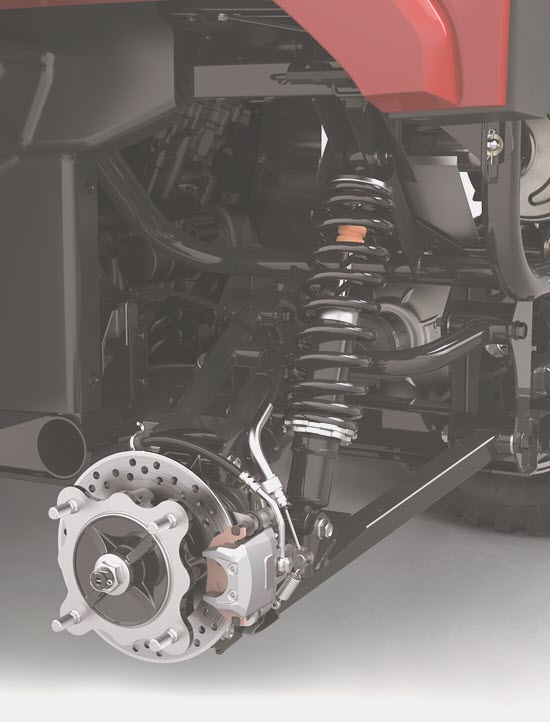 Rear Suspension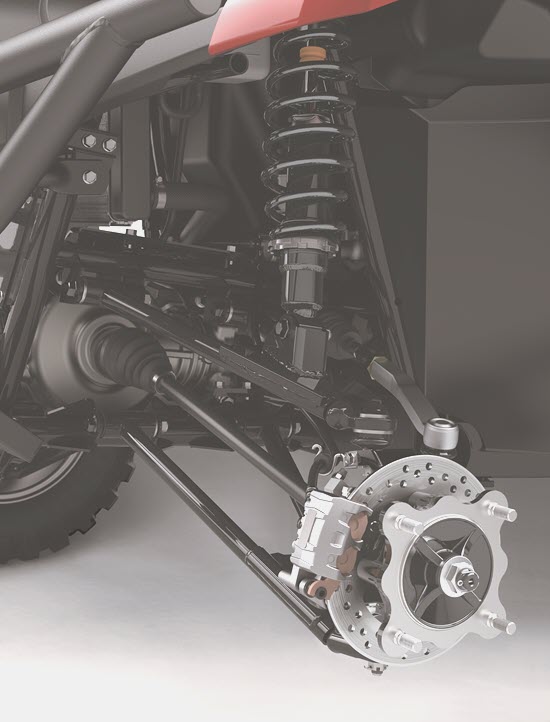 Front Suspension
Cargo - Storage - Towing
The bed utilizes a two-lever tailgate release system for easy opening and closing. A gas-assisted tilt feature makes it easier to raise the bed and for easy access to the engine compartment.
Flat design of the cargo bed makes it easy to access and load from three sides, while its flat bottom provides space for chores or gear for fun.
Steel diamond-plate cargo floor with a maximum cargo capacity of up to 700 pounds.
Cargo divider system that make different cargo bed storage layout configurations possible thanks to the slots that were built into the walls and tailgate.
integrated one inch square tube, which provides six easy tie-down points.
Tailgate cup holders, which are Accessible when the tailgate is down. 
2.4-gallon storage compartment located under the front hood; an additional 1.4-gallon storage compartment beneath the passenger seat. A lockable passenger side glove box for small items integrated into the dash, along with two cup holders, dashboard pockets and a tray for quick and easy storage of small items.
Two-inch tow hitch receiver with a 1500-pound towing capacity.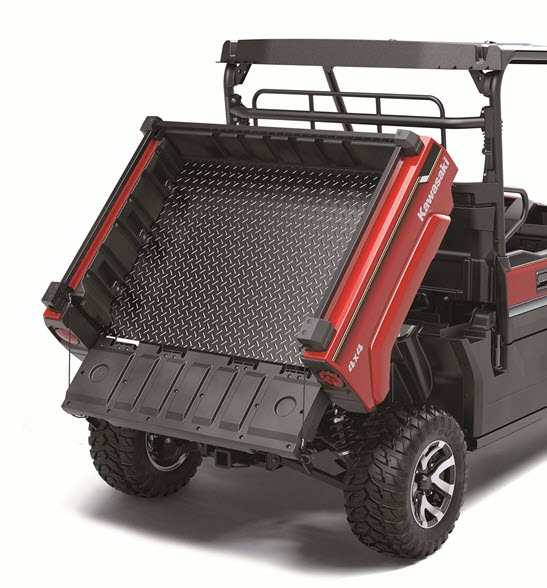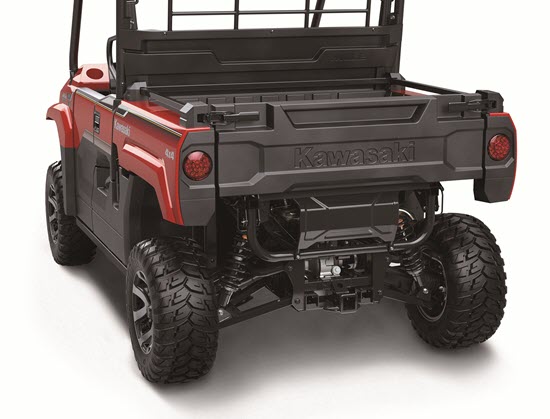 Body and Interior
Contoured bench seat with cold resistant  material, equipped with three-point anti-cinch seat belts.
Roll Over Protection System (ROPS), which includes a passenger handgrip and shoulder guards that are integrated into the frame.

Dashboard includes switches for the headlights, selectable 4WD, and rear differential lock. A multi-function display that is built into the dash, which monitors fifteen features, including driving mode (2WD/4WD) indicator, digital speedometer, digital fuel gauge, odometer, parking brake indicator lamp, reverse indicator lamp, neutral indicator lamp, and more.
12-volt DC power outlet.
Steel front bumper.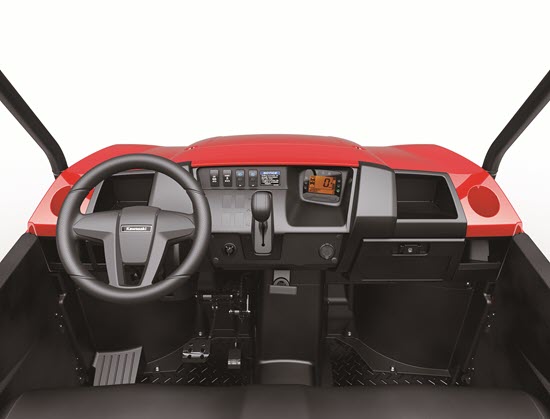 The Mule Pro-MX features tilt steering, switches for 4wd system, integrated LED instrument readout, and cup holders.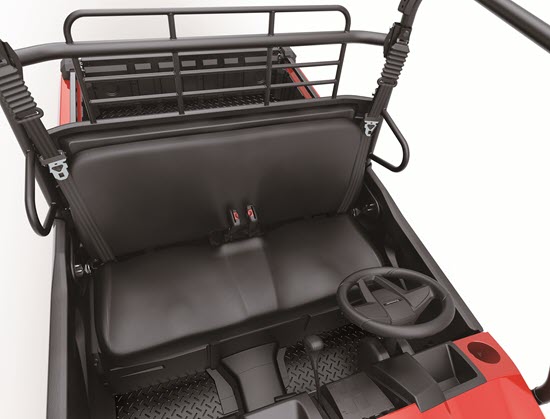 The mid-size Mule has a contoured bench seat for two, rollover protection with shoulder guards, and 3 point seat belts.
Kawasaki Mule Pro MX Models
MULE PRO-MX EPS - $11,999
Colors - Timberline Green or Bright White
EPS, adjustable tilt steering, steel wheels, halogen headlamps, two LED auxiliary headlamps with two halogen headlamps.
MULE PRO-MX EPS LE - $12,499
Color - Firecracker Red
EPS, adjustable tilt steering, aluminum wheels, halogen headlamps, plastic roof, two LED auxiliary headlamps with two halogen headlamps. 
MX EPS CAMO - $12,649
Color - TrueTimber® HTC Green
EPS, adjustable tilt steering, steel wheels, halogen headlamps, two LED auxiliary headlamps with two halogen headlamps, and plastic roof.
All models come with Kawasaki STRONG 3-Year Limited Warranty.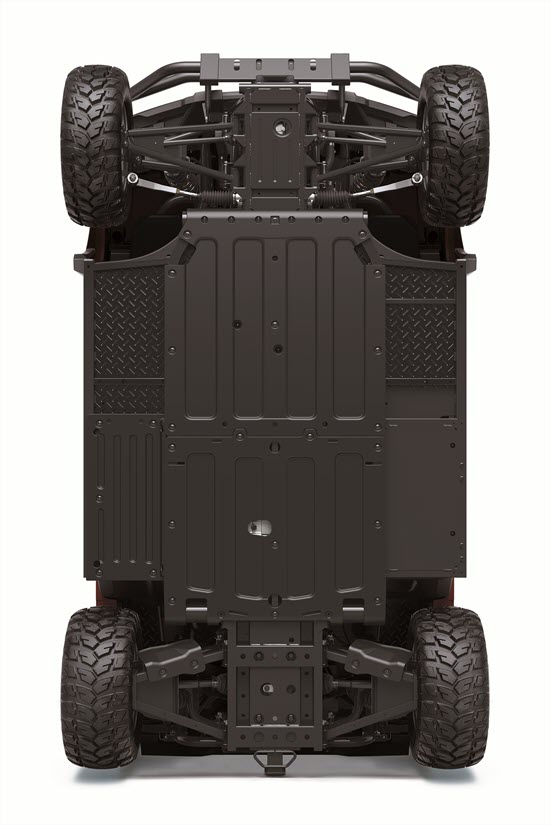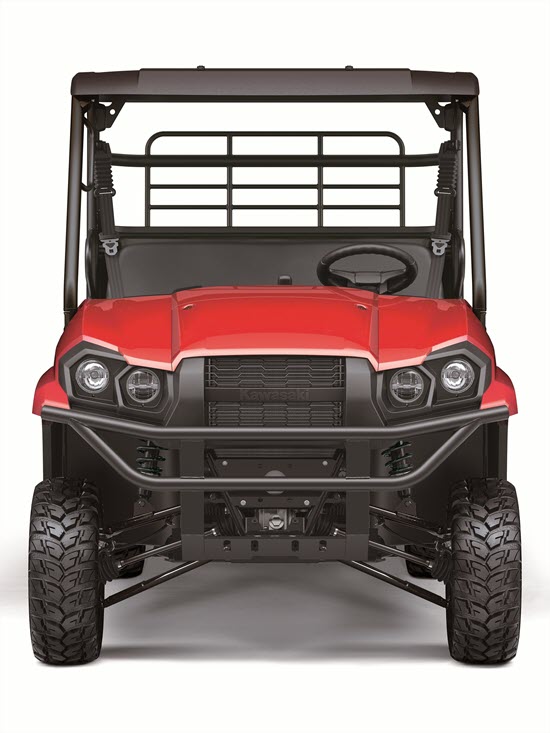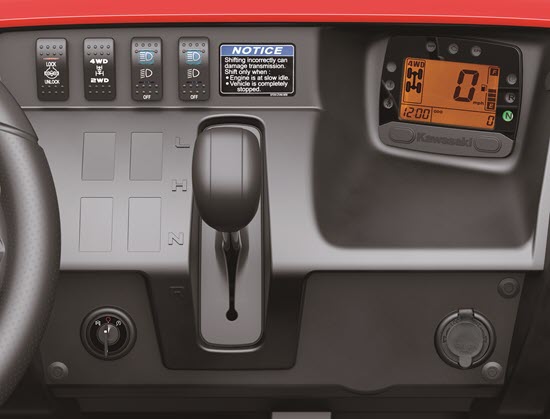 Center dash layout of the 2019 Kawasaki Mule Pro MX.
Video Gallery
Gallery of feature photos of the new Mule Pro-MX.
Gallery of action photos.
---
---