Interco Black Mamba ATV Mud Tire.
The Interco Black Mamba is another entry in the serious ATV mud tire category. By serious, we mean a no kiddin' around, mud slingin', ditch witch diggin', not good for much else, tool of an ATV mud tire!
They're also seriously heavy. Heavy enough to replace most home gyms! 55 to 70 pounds each worth of heavy depending on what size you go with. The Interco Black Mamba ATV tires won't be floating over the top of any mud holes for sure! With nearly 300 pounds of mud tire bolted on - you're going straight to the bottom with these babies.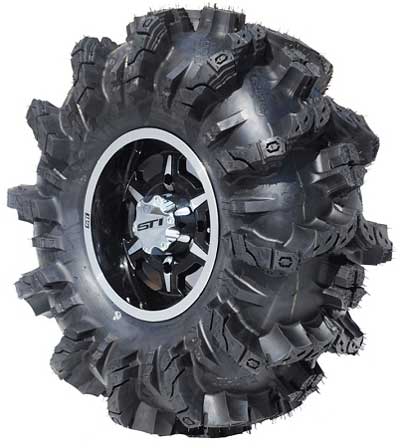 The Black Mamba is one of the most serious ATV mud tires.
For hard core ATV mudding, that's not necessarily a bad thing. The ability to dig down to something solid enough to gain traction is what separates the Big Boy ATV mud tires from the pack. A heavy tire and aggressive lug pattern will get the job done.
| | | | |
| --- | --- | --- | --- |
| Tire Size | Ply | Tread Depth (Inches) | Weight(Pounds) |
| 27x10-12 | 6 | (1 3/4") | 55 |
| 30x10-12 | 6 | (1 3/4") | 66 |
| 30x10-14 | 6 | (1 3/4") | 65 |
| 32.5x10-14 | 6 | (1 3/4") | 70 |
Interco Black Mamba Impressions.
The Black Mambas are heavy - I know we've covered this, but what does it really mean to you? How will that affect your ATV? Let's try to answer these questions.
Heavy tires require more power. You won't be able to get the full benefit from ATV mud tires with a lower powered ATV. In addition to the extra weight of the tire, remember that mud itself increases the rolling resistance of the tire.


Brakes are less effective. The added weight and size of the Black Mambas increase the "flywheel" effect of the tire and wheel. This takes more brakes to slow your 4 wheeler compared to lighter units.


Increased unsprung weight will effect handling. The suspension of your ATV will have to work harder to control the additional weight of these tires. That usually means a decline in handling at higher speeds.


Added stress on some parts. Hubs, wheel bearings, CV joints, axles, and differentials can fail with the extra stress of handling heavy tires.


Black Mamba ATV tires are large - There's no doubt that a big ATV mud tire can give your ATV the look of some sort of military assault vehicle. But looks aside, what will it take to get these monsters bolted on your ride? Let's see what you need to know before it's too late.
The extra wide lugs that work so well in the ruts may need spacers to clear steering and suspension pieces. If you're buying new wheels, changing the offset of the wheels may eliminate the need for wheel spacers. Some careful measuring and consulting with the wheel manufacturer can keep you out of trouble and save you some money at the same time.


The taller than normal height of the Interco Black Mamba could require a lift kit for clearance of body panels, frame, or suspension. The added height raises the center of gravity of the ATV which can lead to less stability for higher speed trail riding.
The Black Mamba lug pattern has good traction in deep mud and ruts.
Interco Black Mamba ATV Tire - Conclusion
As a dedicated ATV mud tire, the Black Mamba stacks up well with the competition. It doesn't have the biggest lugs around, but they do a good job of staying cleaned out which helps keep the tire driving forward. The unique design of the lug pattern seems to help with traction in most conditions.
The lugs also protrude out from the sidewall, which gives great bite in deep ruts, but can also jerk the bars suddenly when trail riding if they grab something. The ride is about average for a 6 ply, big lug mud tire. Certainly no worse than many others.
If you're into looks, these things look about as mean as it gets. Something about the lug pattern gives the tire a real serious business, almost military type look. You will get attention with these babies! If they don't notice you when you drive up, they sure will when you hit the first mud hole.
We checked with several owners of the Interco Black Mamba tires, for their impressions. A wide variety of machines were represented, including some UTVs along with the various Can Ams, Polaris, and other ATV makes. Most felt these ATV mud tires were as good or better than any other they had run.
Several told us they felt they were able to get through some mud with the Black Mambas that had stopped them with some of the other more popular mud tires. They felt the big difference was that the Mambas didn't have to spin as much to stay cleaned out, therefore maintaining forward bite much better.
A few admitted they had broken parts with these tires. Axles were mentioned most often. That's not really unusual with any ATV mud tire, and the Black Mambas seemed no worse than average. Riding style can have a lot to do with breaking parts in severe conditions, but there is no doubt that trying to turn heavy mud tires in some thick muck stresses things to the max.
If you ride a reasonably powerful machine, and feel the need for a serious mud tire, then the Interco Black Mamba ATV tires look like a good value to us. As a general use trail tire, we're not so sure they would be the best choice. But if you encounter a lot of nasty mud on your rides, they could be worth the compromises to you. Just know what you're getting into and what to expect.
---
---