Compare ATVs - Find Out Which 450 Class Sport ATV is the Best!
We decided it was about time to compare ATVs in the Sports ATV category. It didn't take long to come up with a list of the top 7 contenders. The good news is there aren't really any losers in this class. All 7 are very competent so in the end it comes down to personal preferences. There isn't really one best sport ATV.
What are your priorities? What's your riding style? How fast do you want to go? How much do you want to spend? Which Sport ATV's qualities are most important to you? All questions we'll try to help you answer. Time to fire 'em up!
Dare to Compare ATVs - Sport Quad ATV Roundup.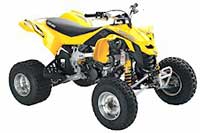 Can-Am DS 450
Can Am DS 450 - $7499
The Can Am ATV trend setter. Sports a screamin' Rotax fuel injected engine, aluminum frame with unique aircraft joints, and great Wilwood brakes.
Best power to weight ratio in the class.
When you compare ATVs, this one always does well.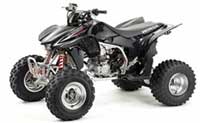 Honda TRX 450R
Honda TRX 450R - $7149
A Honda ATV sport standard. Unchanged for several years which is good for aftermarket support and bad because you'll probably need some.
Good power and brakes are let down by the stock suspension. Still comfortable and reliable.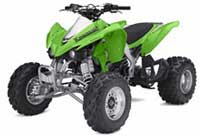 Kawasaki KFX 450
Kawasaki KFX 450 - $7549
The little brother in the Kawasaki ATV KFX line. Serious aluminum frame with good tractable power and good brakes.
Like the Honda, it all gets wasted by the too stiff suspension. If looks could kill - the KFX Kawasaki ATVs would be wanted for murder!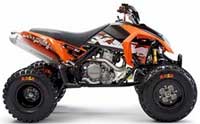 KTM 450 XC
KTM 450 XC - $10,698
The KTM ATV wins the high dollar award. Top level aftermarket pieces like Ohlins shocks, Douglas wheels, and Magura controls will do that.
You also get the best usable power and handling in the group. If you like to shop for aftermarket parts - pass on the KTM.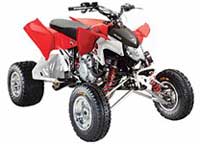 Polaris Outlaw 450 MXR
Polaris Outlaw 450 MXR - $7399
The Polaris sport ATV racing version. Think of this one as a KTM built to a lower price point.
Same great engine but all the little pieces don't add up to a cheaper KTM. But this Polaris ATV doesn't have any glaring faults either.
Suzuki QuadRacer R450
Suzuki QuadRacer R450 - $8099
The Suzuki sport ATV standard. Confidence inspiring stability from the suspension and steering.
Plenty of power. Comfortable for a broad range of riders, especially taller ones. The Suzuki ATV sport quad is a favorite at the motocross track.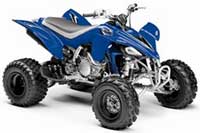 Yamaha YFZ 450
Yamaha YFZ 450 - $7499
The Yamaha sport ATV for racers. The original sport quad so it has benefited from several years of development.
The Yamaha ATV engine pulls hard - so hard that you may have trouble controlling it with the stock throttle. Except for that this Yamaha ATV model is equally at home on the trail or the track.
Most sport ATV magazines compare ATVs like these with an emphasis on their racing abilities. There's nothing wrong with that but we know a lot of Sport ATVs are used for recreational trail riding. Or just for playing in the dirt. We're going to remember that in this review.
Tons of sport ATV accessories are available for most of the popular brands. Modifying one of these to do what you want isn't hard - it just takes some hard earned dollars! But we have to compare ATVs as they come stock even though a few modifications could make a big difference. We'll leave that up to you.
How We Compare ATVs.
Testing included motocross tracks, cross country trail sections, some recreational trail riding, and some runs down wider fire roads. Several different sized riders with widely different riding skills participated.
So if one of these sport ATVs was blazing fast on a motocross track in the hands of an expert, but a handful on the trail when ridden by a novice - it evened the scores out. ATV sport models that were both fast and user friendly tended to have the best overall scores.
450 Class Sport ATV Comparison Results.
These sport ATVs are listed in the order of preference of the testers. They represent a broad cross section of riders, but when you compare ATVs it can still be very subjective. We also will include what we think each model would be best at for the average rider.
---

KTM 450 XC
Pros - Best power delivery in the class backed up with first rate suspension and brakes. Everything you need to win races is here and the KTM is at home on cross country trails as it is on the motocross track.
Cons - It's expensive. You need to know what you're doing with all the adjustments or you can dial yourself into a world of trouble.
Best for - All out racing. It's hard to justify the cost for anything less.
Suzuki QuadRacer R450
Pros - Very good package that comes close to the KTM in almost every category except price. Confidence inspiring stability for a sports ATV.
Cons - A little wide and low for cross country situations.
Best for - Motocross or playing in wide open spaces. Narrow the width and it would be a competitive cross country or trail machine. Best choice for motocrossers on a budget.
Yamaha YFZ 450
Pros - Very well developed sport quad that works well at the track and in the woods.
Cons - Surprisingly hard to operate throttle and a rear suspension that's just a little off really hurt the overall package.
Best for - Good at whatever you want to do. It may take a little work to solve some small problems for racing but it can get the job done.
Can Am DS 450
Pros - Big power on the top end with premium suspension and brakes.
Cons - Hard to handle power makes trail riding a challenge. Bottom of the frame is prone to damage without skid protection.
Best for - Fast motocross tracks or wide open spaces. Smooth the power out with some aftermarket ATV accessories and it could be a winner.
Kawasaki KFX 450
Pros - Nice smooth power and suspension that loves to be abused. Good brakes and killer looks.
Cons - Down on power compared to the top of the class. Stiff suspension is painful on trails and makes the Kawasaki ATV too jittery.
Best for - Tighter motocross tracks with lots of jumps. The stiffer suspension and smooth power could be perfect for heavier trail riders or cross country racers.
Honda TRX 450R
Pros - Very comfortable with excellent power delivery. Good brakes. Lots of potential. Value priced.
Cons - The stock suspension is too stiff for the trail and maybe for motocross unless you're big and fast.
Best for - Smoother trails, tracks and playing. Fix the suspension and you could get serious about racing.
Polaris 450 MXR
Pros - The Polaris ATV engine that's really a KTM! Fox suspension. Puts power to the ground well and has competitive handling on the track and smoother trails. The price leaves you some room to work.
Cons - Low ground clearance can be a problem on rougher trails. The seat was a little too hard to move around on.
Best for - Motocross as it comes stock. It could be fine for cross country and trails with some bigger diameter tires and lower gearing. Browse the Polaris ATV performance parts catalogs and it could go even faster!
How We Compare ATVs - Final Thoughts.
Remember that any ATV comparison is a snap shot in time of these stock Sport ATVs in certain conditions on a certain day. A lot of variables can figure in to the final results.
Your riding area - style of riding - size and weight - money in the budget - technical knowledge - can drastically affect which of these sport ATVs is the best one for you.
Any of these 450 Sport ATVs can be competitive - It's just that some are already there right out the dealer's door! So when you compare ATVs - be sure you keep in mind which qualities are most important to you.
---
ATV Review Directory from Compare ATVs.
---