ATV Tire Repair Kits
ATV tire repair kits are one of those things you don't want to leave home without. There's nothing much worse than finding yourself in the middle of nowhere with a flat ATV tire and no way to fix it.
Ruining an otherwise good tire and wheel by riding with a flat isn't really a good choice for the old pocketbook! Inexpensive four wheeler tire repair kits are the best solution we have found. Want to shop for the best deals right now? Click the Ebay link below.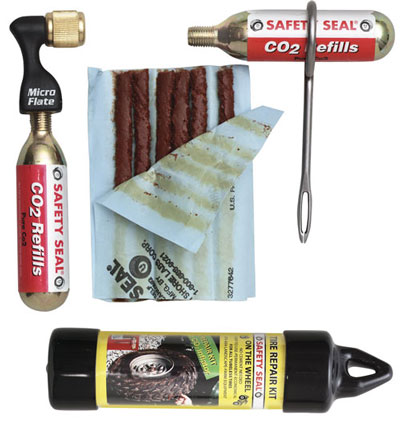 Most four wheeler tire repair kits include tools, plugs, and inflators.
ATV Tire Repair Kits - What Are They?
Most kits include several items:
Tool for inserting tire repair plugs.
Tire repair plugs.
Some means of re-inflating the ATV tire.
There are many kits on the market but these items should be common to all. The style of repair plugs and type of inflation (CO2 or hand pump) may vary. More expensive kits may even include some sort of ATV tire sealant and an electric air compressor.
If you have the extra room to carry one of these larger kits, that's great, but don't think that it's necessary. We like to carry a basic kit that can be stored somewhere on the ATV so that it's always there when you need it.
How Do ATV Tire Repair Kits Work?
Most repair kits are pretty simple to use. We've successfully fixed a lot of flats on the trail - and if we can do it - anybody can! Here are the basic steps.
Identify the location of the puncture and remove the source if it's still lodged in the tire.


Clean out the hole with the tool in the kit.


Insert the plug in the tire using the provided tool from the kit.


Inflate the tire by the means provided in the kit. We like the CO2 cartridges because they don't take up much space and they're very light weight. Hand pumps are fine too, but be ready for a pretty good work out! Electric compressors are deluxe but take up more space and weigh more.
Check out the video to see how it's done!
ATV Emergency Tire Repair Kits - Recommendations.
There isn't a specific brand name that we recommend over another. Just make sure the kit you get has the basic items included that we listed above. Some kits come packaged in a can, others in soft pouches or hard cases. We would make that choice based on how and where we planned to store the kit.
An ATV tire sealant is a good first line of defense. That will allow you to keep going with smaller punctures, and makes tire repair easier when a plug is necessary. But a sealant is not a substitute for an actual tire repair kit.
We came up with the custom link below for the best deals on several different types and brands of tire repair kits. Like we said - don't leave home without one!
---
---